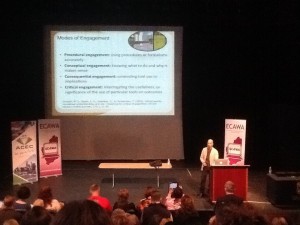 Challenging yourself is how learning happens best. Writing this from the Space Bar at ACEC 2012 I am reflecting on how I am taking advantage of all the learning opportunities that this conference is presenting me. This is my fourth ed tech conference and my first national one. I am familiar with the notion of choosing which experiences to choose and which ones to 'miss'. Being spoilt for choice is both an advantage because you can tailor your experience to suit your needs but a burden because you never know the opportunities pass you by.
Now that's life I know, and being told to 'cowboy up' might be in order, but I have realised an extra element to the conference experience that mirrors classroom technology practice; blended approaches work best. It is the personal interactions that I am having here that are teaching me the most.
Cognitively this all makes sense with greater engagement with the content and whatnot, but what these personal connections deliver is a meaningful exchange of purpose between like minded educational practitioners. I'll argue that you can get that using twitter, as most educators are seeming to do nowadays, but the element that I believe is missing even from that tool that has transformed the way I and others view the teaching profession is the face to face element.
I recently did a purely online uni course and I was underwhelmed. I was told early in my post grad journey that it should be "…nothing if not transformative." And that is what it has been so far. However, this online course taught me stuff. That's all. No new views. No exciting ideas to promote further professional inquiry. Nada but for the skills I learnt. I became an upskilled version of my former self. I strongly feel the lack of face to face was a big reason for this.
Now there is nothing wrong with that. New skills are helpful. What I missed though was the transformative experience. I didn't walk away a different person, and I believe that's what higher learning should be about.
Back to ACEC. Attending keynotes and breakouts will teach you stuff. You will learn a new tool to use. You will be aware of how standards can be implemented in the new collaborative model of useful integration. You are unlikely to change your outlook on teaching in a deep and meaningful way.
Conversations are needed for that. Conversations can lead to more than just listening can. Listening will give you an idea that you could implement in your classroom. Conversations can give a new approach or view or paradigm that will affect your entire practice. Face to face encounters here at ACEC have given me more than any presentation ever has. They have given me my transformative experience.